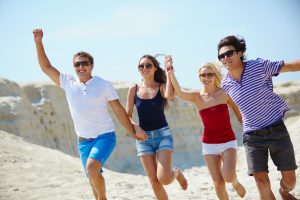 Nothing beats spring break in South Walton. With the balmy sea breezes, warm sand, crashing surf, and buzzing nightlife, a week in Baytowne Wharf is just what you need to survive the rest of the semester. But after awhile, those days of lazing on the beach makes you go a little stir crazy. If you're looking for a spring break adventure in Sandestin, look no further than Baytowne Adventure Zone!
Soar above the Skies
Strap in! It's time to soar above the skies in a thrilling adventure with the best views in town. Glimpse the glittering water, verdant trees, and beachy architecture of Sandestin as you sail smoothly through the skies . . . 40 feet above the ground! The zipline experience will give you a whole new appreciation for the beach (because let's be real, you'll be lounging in a beach chair again in no time).
Leave the Safety Nets Behind
Test your agility as you navigate our ropes course, climbing higher and higher in a daring attempt to reach the top. Walk the plank and ring the bell, and become the hero of the spectators below. At least until your  friends beat your best time!
Flip Out
What do you get when you combine college kids + bungee ropes + 4 mega trampolines? Total insanity! Flip, twist, and jump higher than the rooftops with our Euro Bungy experience.
Conquer the Climb
Alright, now you're just showing off. Race to the top of our towering rock climbing wall, complete with an inverted climbing section for anyone who's really bored with beach volleyball.
Don't waste your spring break. Go on the adventure of a lifetime at Baytowne Adventure Zone.