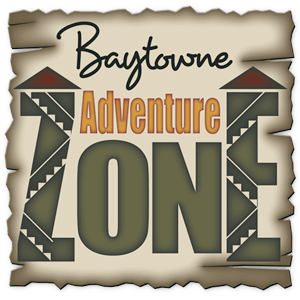 For all of you thrill-seekers and adventure junkies out there, this blog is for you! We want to welcome all of our readers to Baytowne Adventure Zone's (BAZ) new blog. Nestled in Northwest Florida, BAZ has been providing The Village of Baytowne Wharf in Sandestin Golf and Beach Resort with an endless supply of ways to ignite your inner Indiana Jones. Running from giant rolling boulders and using a bullwhip to escape snake pits may not be included in our list of attractions, but your thirst for adventure will certainly be quenched before you leave. Whether you're seeking a thrilling family adventure, a heart-pounding team building day, or a birthday party only the bravest will survive, you won't be disappointed by the thrills at Baytowne Adventure Zone. 
Sandestin's Zipline
Sky Trail Ropes and Sky Tykes Ropes Course
Euro Bungy
Baytowne Golf Challenge
Tower Climb
Baytowne Tug Co.
A blog about fun and adventure sounds great, but you might be wondering what content you should expect from us on a monthly basis. Below is a list of topics we will be exploring with our followers in the future, and we can't wait to embark on this journey with you!
Upcoming events

Tips and tricks for each of

our adventures

Promotions and specials

Questions and insider info from your fellow thrill-seekers

Just about anything to get you geared up to have a good time!
In addition to our blog posts, you can keep up with what we have going on by following us on social media! Check out our Facebook, Twitter and Instagram pages.